Oil Slides After Saudis Slash Crude Price In Scramble For Asian Market Share
Saudi Arabia slashed oil prices for sales to Asia next month by more than twice the expected amount in a sign the world's largest crude exporter is getting aggressive about capturing market share and dump more output in the continent. On Sunday, state oil giant Saudi Aramco rolled back pricing on all of its grades to its biggest market in Asia, following three successive months of increases in the company's official selling prices which had left refiners smarting as the coronavirus pandemic crippled energy demand.
Aramco lowered for the first time in four months the official selling price (OSP) of Arab Light crude for delivery to Asia in October to a premium of $1.70 per barrel versus the average of DME Oman and Platts Dubai crudes, according to a company pricing document. The price differential in September was a premium of $3 per barrel, the highest since February 2020.
The $1.30 price cut for October versus September was the largest monthly reduction in a year, and it took the market by surprise as buyers had been expecting prices to drop 20-40 cents a barrel, in line with changes in Dubai benchmark prices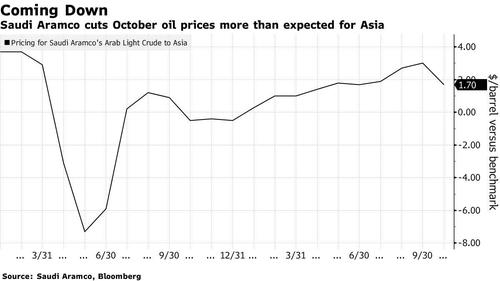 Saudi Arabia finds itself competing on price again after OPEC recently hiked production again by 400K b/d following a 40% run-up in the price of Brent this year (but only after a crash in 2020). That increase means more barrels competing for cautious buyers. Saudi Arabia, which sells all of its oil on long-term contracts to refiners, risks alienating customers if its sets monthly prices too high.
"Because of the high Saudi OSPs in previous months, traders have diverted to the spot market instead of using long term contracts," said Giovanni Staunovo, a commodities analyst at UBS Group AG. Now Aramco wants buyers to take more Saudi crude, he said. "With domestic demand likely leveling off in autumn, they have more barrels to be exported, so that's another reason to offer more attractive OSPs."
The deep price cuts were likely to increase demand for Saudi crude, Asian oil traders told Reuters, encouraging buyers to nominate full volumes for October. "This is what Saudi wants," one of the traders said. However, the chances of Saudi Arabia engaging in another price war with other producers were slim, traders and analysts said.
"Demand is tentative. If they go down that route, they will reverse a lot of the inventory normalisation achieved over the past 12-18 months," Energy Aspects analyst Virendra Chauhan said.
Elsewhere, Saudi Aramco kept the price differential of light crude to northwest Europe unchanged, at a discount of $1.70 per barrel versus ICE Brent crude. It also kept the price differential of light crude to the United States unchanged at a premium of $1.35 per barrel versus ASCI.
After rising on Friday, oil slid overnight on the news Saudis is chasing after market share in Asia, raising the prospect of fierce competition among sellers as the resurgence of Covid-19 continues to cloud the demand outlook.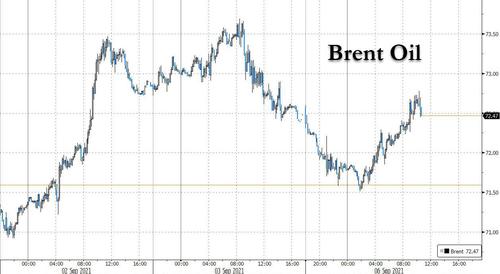 Prices did recover modestly after BSEE reported that about 88% of oil production in the Gulf of Mexico remained shut in. As reported overnight, authorities were responding to a 14-mile long oil spill in the Gulf of Mexico discovered in the aftermath of Hurricane Ida, officials said Saturday.