Nikola Plummets 25% After Founder Milton Unexpectedly Resigns As Chairman Amid SEC Probe
Nikola stock plunged more than 25% after founder Trevor Milton unexpectedly resigned as Executive Chairman of Nikola just days after the company was reported to be the focus of investigations by the SEC and DOJ following a highly critical short-seller report. The resignation was first reported by FreightWaves.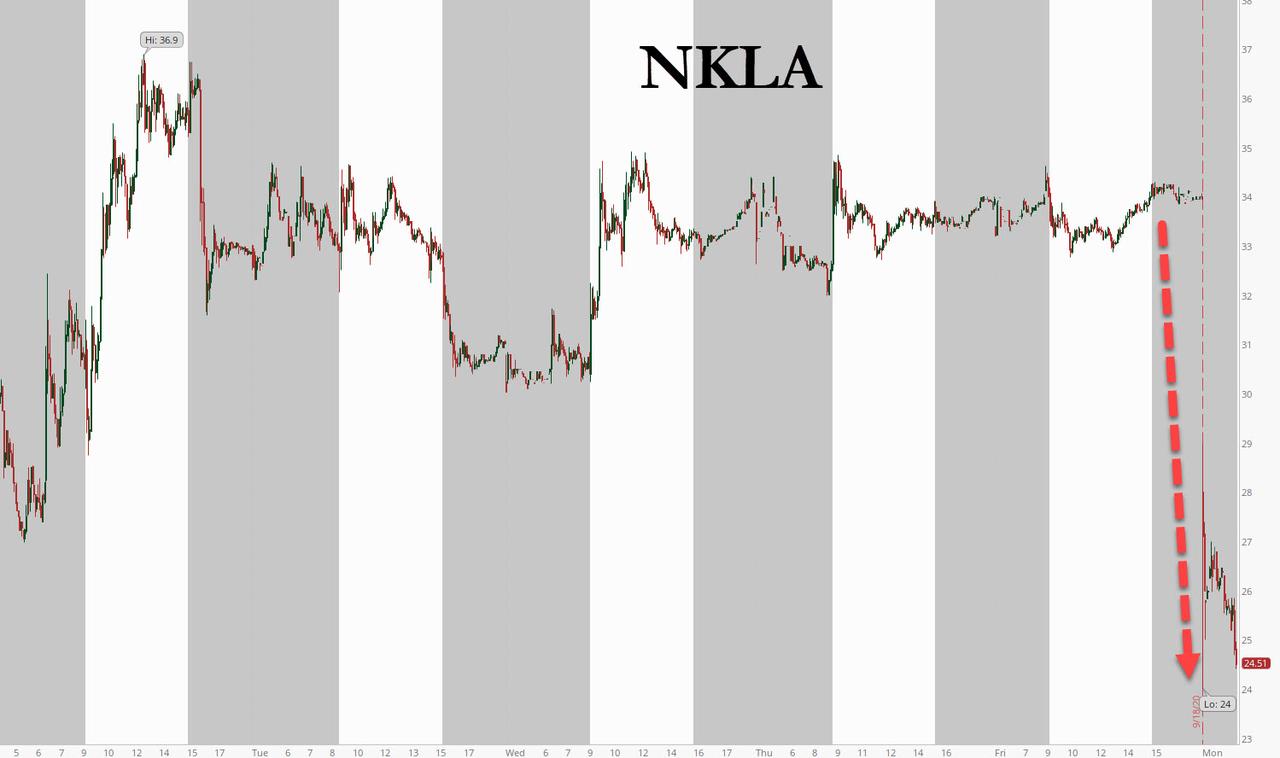 "Nikola is truly in my blood and always will be, and the focus should be on the company and its world-changing mission, not me," Milton wrote at 2:21am in a terse, disjointed tweet to which he blocked responses (one can imagine why), confirming the FreightWaves rerport. "So I made the difficult decision to approach the board and step aside."
I will be cheering from the sidelines with you. Your greatest fan. pic.twitter.com/IaYfZedYhK

— Trevor Milton (@nikolatrevor) September 21, 2020
Well, Trevor, it was never about you as the NKLA price confirms, but we are confident the regulators will be happy to make it about you now that you have confirmed that the Hindenburg report was accurate and most if not all of Nikola is a fraud. Until then, just keep an eye on Trevor taking a private jet to various non-extradition countries.
Milton's tweet was merely the latest indication that Milton, like Tesla's Elon Musk, has relied on social media to promote his company. In February, he introduced the Badger truck via a tweet, calling it "the most advanced electric & hydrogen pickup, designed to take down the Ford Raptor." On June 8 he tweeted that Nikola would start taking Badger reservations later in the month for "the most bad a – zero emission truck." Potential buyers paid deposits as high as $5,000 – without even seeing a prototype of a vehicle that won't go on sale until 2022.
As Bloomberg notes, "investors have sometimes struggled to keep up with Milton's messages, especially given the evolving list of projects Nikola is pursuing: battery-electric big rigs in Europe, fuel-cell-powered semis in the U.S., an electric pickup to be built by GM, becoming the preeminent supplier of hydrogen for fleets of vehicles and vague proposals to enter the market for high-performance sports cars."
"It's a bit confusing trying to follow Trevor on his various social-media outlets about the timing and cadence of communication of the different variables that you're talking about," Jeff Osborne, a Cowen & Co. analyst, told executives during Nikola's first earnings call on Aug. 4.
Milton's resignation comes less than 2 weeks after Hindenburg Research's original report calling the company an "intricate fraud" and just 6 days after Hindenburg's follow up report stating it viewed Nikola's response as a "tacit admission of securities fraud". 
It remains to be seen whether the sudden departure has anything to do with reports of both the Securities and Exchange Commission and the Department of Justice making inquiries to the company. Additionally, Tweets began to surface late Sunday night by the CEO of Entrata, David Bateman, who alleged that women had "come forward accusing Milton of groping her".
Trevor hired her for a https://t.co/E5n9ccpnHW modeling shoot. Of course the shoot was out of town, and he arranged the trip so he'd be sleeping in the same home as the two models he hired. After pushing him off he berated her and slept on the floor next to her bed all night

— David Bateman (@davidbateman) September 21, 2020
The sudden resignation also came just hours after Cowen put out a note defending the company and Milton, placing a $79 price target on the company. "To be clear, we don't believe Nikola is a fraud," Cowen said.
Cowen put this out literally hours ago $NKLA

"We see Mr. Milton as overly aggressive in the positioning, specifics and timing of many of the variables he has discussed, but we don't see this as intentional deception" pic.twitter.com/tQ9FT7zZcf

— Quoth the Raven (@QTRResearch) September 21, 2020
Oops.
As reported previously, Nikola had said it voluntarily reached out to the SEC to discuss its issues with the Hindenburg report, and ultimately held a call with agency officials on the morning of Sept. 11. Nikola says Hindenburg was attempting to profit from a "manufactured decline" in its share price.
"Nikola has contacted and briefed the U.S. Securities and Exchange Commission regarding Nikola's concerns pertaining to the Hindenburg report," the company said early last week. "Nikola intends to fully cooperate with the SEC regarding its inquiry into these matters."
In a lengthy report on Sept. 10 Hindenburg Research compared Nikola to Theranos, calling it an "intricate fraud" which overstated the capabilities of its earliest test trucks among many other allegations. Among the bolder accusations made by Hindenburg Research in their recent scathing report about Nikola Corporation was the allegation that Nikola faked its Nikola One semi truck "in motion" video, which appeared to show a functioning big rig barreling through the desert, trailer in tow.
Some people even took to the desert with their own cars to recreate the experiment on the same hill. 
On the morning of September 14, Nikola put out a response that confirmed its Nikola One wasn't powering itself during the company's 2018 commercial featuring the semi. You can read Nikola's full response here. 
Nikola's shares have roller-coastered since the company went public on June 4 in a reverse merger, with Girsky's blank-check company VectoIQ. At one point, they soared so high driven by clueless Robinhood momentum-chasers that the startup's market value exceeded Ford Motor. After the third day of trading, Milton – who owns 35% of the company, based on regulatory filings – was worth $9 billion, making him the world's 188th richest person. His net worth was valued at $4 billion before Monday's stock plunge.
The question now is whether GM CEO Mary Barra, who infamously defended her investment in Nikola claiming sufficient due diligence was performed, follows in Milton's footsteps and resigns next.