"Its Class Warfare" – Protests, Tax Hikes Create "Hostile Environment" For Wealthy New Yorkers
Richard Ravitch, the former lieutenant governor and elder statesman credited with helping to guide the city through the tumultuous 1970s, claims he has never seen the rich be so thoroughly demonized in New York City, a symbol of American class inequalities.
"It bothers me because it gives a lot of nourishment to all the rightwing nuts I despise," Ravitch says. There was once a sense of collegiality among business and labour leaders fighting to rescue the city, he laments. "None of that exists now."
As he struggles to beat back twin scandals, including allegations that he sexually harassed female aides, NY Gov. Andrew Cuomo is pushing a progressive budget that would see New York's millionaires pay the highest state income tax in the country, overtaking even massive California. Unfortunately for Cuomo, his latest plan to silence his progressive critics just might backfire. Because as the FT reports, NYC's rich are starting to feel like they might be better off somewhere else – and the work-from-home revolution has helped to weaken NYC's status as the "center of the universe" in the US. As we reported yesterday, NY legislators have been briefed on a plan under which income-tax rates would rise to 9.65% from 8.82% for single filers reporting more than $1 million of income and joint filers reporting more than $2 million, the people said. The plan would also add two new tax brackets. Income over $5 million would be taxed at 10.3% and income over $25 million would be taxed at 10.9%, the people said of the plan, and the new rates would expire in 2027.
But it's not just the tax hikes that are making the rich feel threatened: it's the protest environment witnessed last summer as the rich are being blamed for perpetuating systems of racial, sexual and class repression.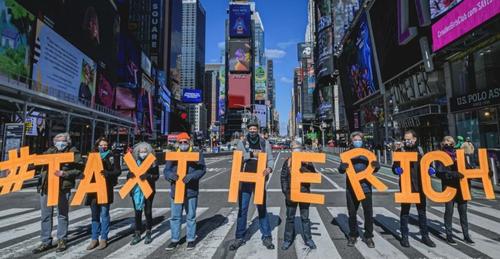 Even Terri Liftin, a Democratic lawyer and candidate for Comptroller felt emboldened – or rather, potentially risking political blowback in the process.
Terri Liftin, a Democratic lawyer who is running for New York City comptroller, says it was to be expected that the inequality exacerbated by coronavirus would breed greater hostility towards the rich. But she worries about nascent "class warfare" that, she says, would ultimately leave New York City worse for everyone. "You can't bring us all together if the emotional tide is against the wealthy," she says. "I don't think the rich mind paying a bit more but I don't think they want to pay more if they're being told they're terrible people."
One society figure protested that the rich should feel like "partners", not targets.
Frederick Peters, chief executive of Warburg Realty — and a scion of the old-money Warburg family — echoes a complaint that is common among the wealthy: that the proposed tax increases are motivated less by fiscal needs than ideological ones. While forecasters were last year predicting a $15bn fiscal deficit for the state, that has since narrowed as tax revenues have beaten expectations and President Joe Biden's stimulus plan has plugged many holes.
"If you feel like your city is treating you like the enemy and you already own a place in Palm Beach, it seems a maladroit moment" to raise taxes on the wealthy, Peters says, adding: "The rich shouldn't feel like the enemy. They should feel like partners."
Some might argue that the wealthy have a lot of nerve to complain about taxes after a year where more than 30K New Yorkers succumbed to COVID (deaths that, as the FT reminds us, were borne disproportionately by the poor). One Empire State lawmaker from Queens claimed that if the wealthy feel attacked, well, it's their own fault.
"We're still dealing with the fact that Ronald Reagan won the political debate four decades ago – even though we don't know if the data backs up the efficacy of that economic approach," says Michael Gianaris, a state senator from Queens, setting out the broader stakes.

Gianaris joined the progressive camp when he opposed Amazon's 2019 attempt to build a second headquarters in his borough. He says it is absurd to believe that paying a few per cent more in tax in a time of "economic calamity" should tip the balance between whether people return to Manhattan or stay in Palm Beach.

"If they're feeling like the bad guy, it's because they're making themselves the bad guy by arguing that they shouldn't contribute more to help us recover when they have done extremely well," he says. "Let's be clear: no matter what we do, the very rich will continue to be very rich."
Many of the wealthy are channeling this rage into the mayoral race, as they seek to push a business-friendly mayor, instead of another bumbling de Blasio-style progressive.
The city is at a crossroads. This is truly the most important election of our lifetime and in NYC's history," Stephen Ross, chair of The Related Companies, and de facto king of the city's developers, wrote to fellow business leaders last month as he urged them to join his effort to elect a business-friendly mayor. The race's outcome, Ross wrote, will determine whether "NYC will rebound or languish".

Looming large for executives like Ross is the grim memory of the 1970s, when a fraying city ended up losing half its Fortune 500 companies – many fleeing to surrounding suburbs – and shedding more than 1m inhabitants. That era also birthed a civic movement.
Of course, the roots of this recent anti-rich wave started long before the pandemic. Back in 2019, AOC helped scuttle Amazon's plans to build its second headquarters in Queens after the Congresswoman complained about tax incentives from the state and city.
And while many financial firms have already moved to Florida or Texas (or another Sun Belt state), Reuters reports that Cuomo's budget has already pushed more financiers to start looking for an exit.
But with plans afoot to raise rates as part of a New York state budget agreement, some financiers are exploring exits, emboldened by a pandemic that has illustrated how working on Wall Street may no longer mean working from Wall Street.

"I'm already looking for an apartment in Florida," said one highly paid person at a top-tier bank who asked not to be identified because his employer does not yet know of his plans to move.

Others earning more than $1 million are considering still bolder steps such as moving not only themselves but also their entire investment firms out of the city, arguing higher taxes cut into their ability to pay staff.
The state's tax collectors would do well to remember: the more financial services firms move to Florida, the easier it will become for other firms to move there as well.