In Unprecedented Cost-Cutting, Exxon Is Firing 15% Of Its Workers To Keep Dividend
It may sound unbelievable that just seven years ago Exxon was the world's largest company.
Of course, all that changed with the advent of the FAAMGs and the Fed blowing the biggest tech bubble in history which together with the plunge in the price of oil, meant the market cap of Exxon has tumbled to just $136BN, below that of Zoom. Yes, we have gotten to the point in the bubble where a video chat with no barriers to entry, zero infrastructure and barely any profit is more valuable than a company that has invested tens of billions of dollars in creating the world's biggest oil exploration and production infrastructure.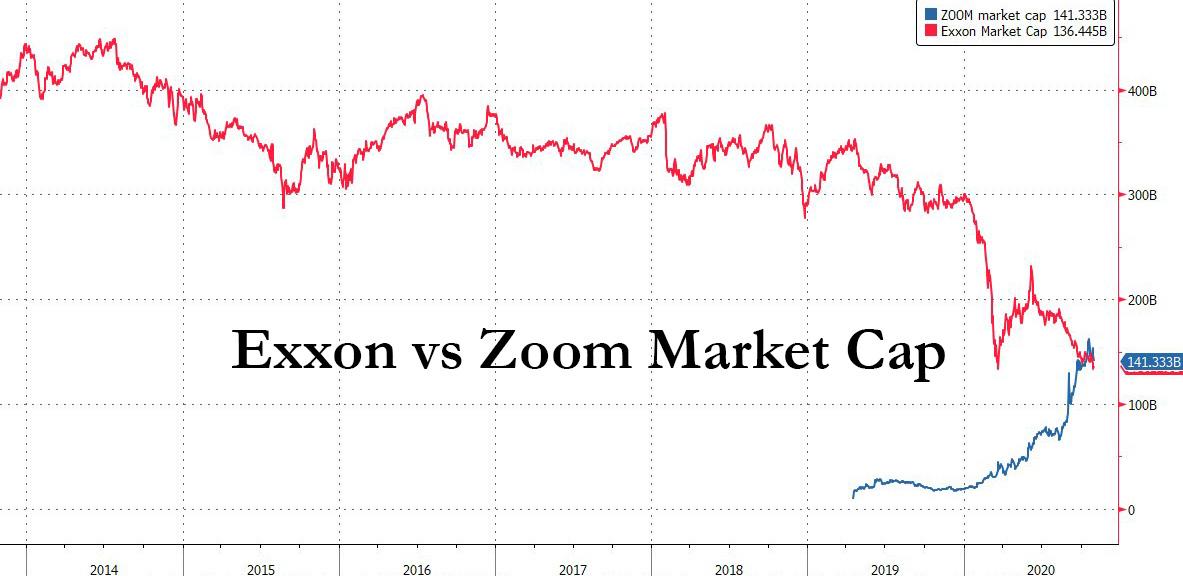 ZOOM vs EXXON:

Revenue (LTM): $1.34BN vs $214BN
Employees: 3,427 vs 75,000
Market Cap: $141BN vs $136BN

— zerohedge (@zerohedge) October 29, 2020
In an attempt to recover some of its former glory, last night Exxon announced that it would be keeping its precious 87 cent/share dividend, which many had expected would be cut amid the ongoing devastation in the oil sector. Keeping the dividend, however, meant that Exxon would have to trim fat and/or muscle elsewhere, and on Thursday Exxon unveiled the latest unprecedented cost-cutting measure when it said it slash its global workforce by a record 15% over the next two years, an unprecedented culling by North America's biggest oil explorer as it struggles to preserve dividends. According to Bloomberg, the cuts include 1,900 U.S. jobs, mostly in Houston, as well as an undisclosed number of positions around the world.
"These actions will improve the company's long-term cost competitiveness and ensure the company manages through the current unprecedented market conditions," the company said in a statement on Thursday.
Exxon spokesman Case Norton told Bloomberg that total reductions will affect about 14,000 people, split between employees and contractors. The figure includes the U.S. job cuts, as well as layoffs and retirements previously announced in Europe and Australia, and future reductions in Canada and elsewhere.
Exxon is not alone in picking dividends over workers, with other Big Oil giants also cutting thousands of jobs in response to the pandemic-induced demand slump. BP plans to slash 10,000 jobs, Royal Dutch Shell Plc will cut as many as 9,000 roles and Chevron Corp. has announced around 6,000 reductions.
Ironically, Exxon's move is smaller both in absolute terms and as a proportion of its larger workforce, which stood at 74,900 people as of Dec. 31, according to data compiled by Bloomberg. However, as Bloomberg notes, "the fact that it's cutting at all is a sign of its weakened financial position compared to its former status as the S&P 500 Index's biggest company less than a decade ago and a profit powerhouse used to riding out oil-price cycles."
This year's downturn has been particularly painful because it affected refining, usually a cushion in times of low oil prices, and because it came at a time when Exxon was already increasing borrowing to fund a large expansion program. The company was forced to retreat on these plans in April, reducing capital spending by $10 billion and delaying or scaling back most of major projects.
The stock has plunged 54% this year, making it less valuable than Zoom as noted above. A chart showing the ridiculous price/book ratio of the two companies is shown below.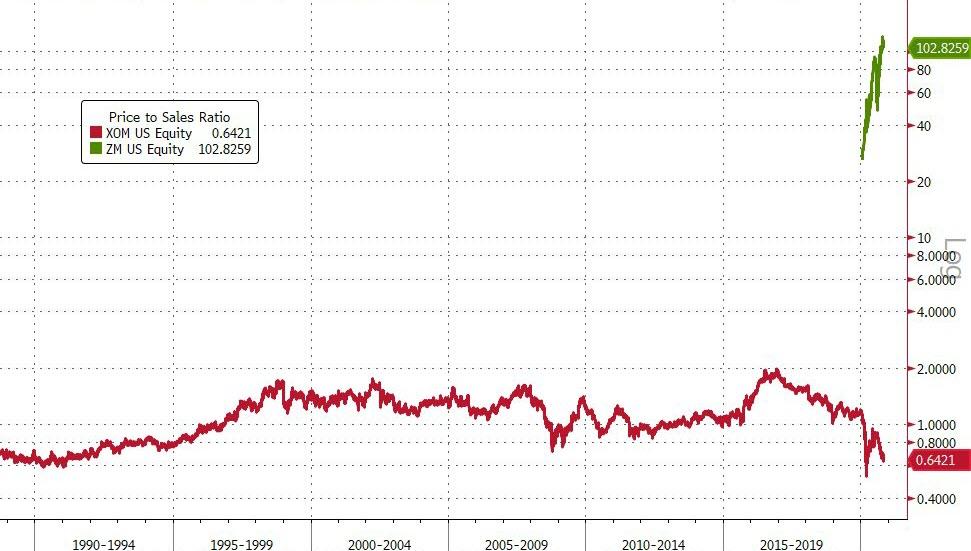 Exxon's dividend yield is now more than 10%, indicating that investors are anticipating a cut yet management is fighting tooth and nail to avoid one, and is hoping that the price of oil rebounds in the near future.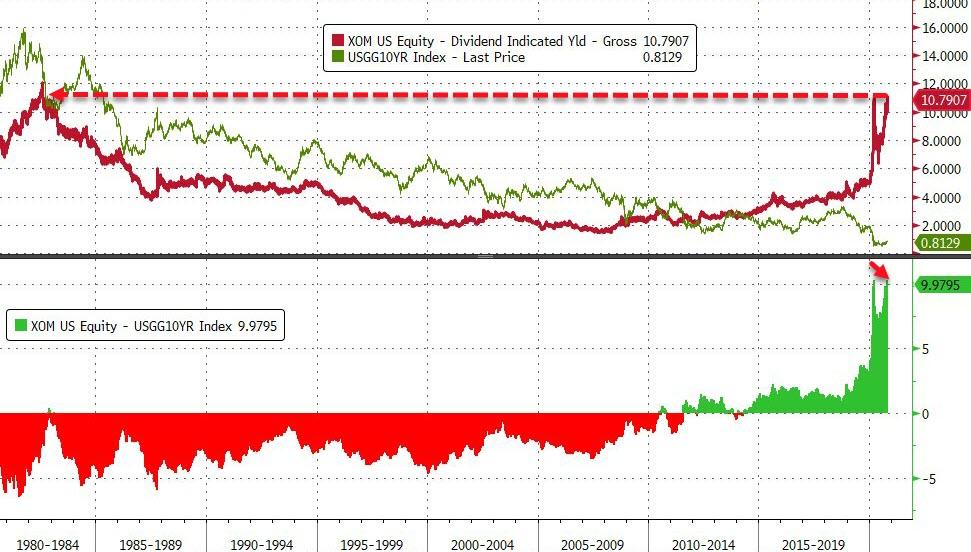 Despite maintainingd its quarterly payout, Exxon is expected to post its third consecutive quarterly loss when it reports earnings tomorrow.