Caught On Video: National Guard Gearing Up With Rifles, Riot Shields At The Capitol
Last week, the Associated Press, citing the Secretary of the Army, said National Guard troops in the Washington Metropolitan Area, especially around the Capitol complex, could carry assault rifles and pistols though the decision was under review. 
Army Secretary Ryan McCarthy told The AP Friday that the military could let guardsmen carry M-4 rifles or 9 mm Berettas in a few days. 
As we come to find out, on Wednesday morning, CNN's Josh Replogle reports that "racks upon racks of rifles and pistols" were unloaded from military vehicles and distributed to troops. 
@mkraju Racks upon racks of rifles and pistols. National guard gearing up at the Capitol. pic.twitter.com/EzRriokncu

— Josh Replogle CNN (@Joshrepp) January 13, 2021
Dozens of pictures of guardsmen sleeping inside the Capitol were armed with what appears to be M-4 rifles by their sides. This comes after days of unarmed guardsmen seen around the Capitol earlier this week.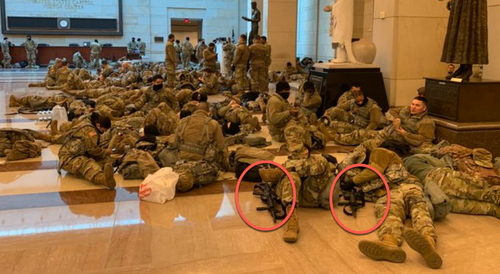 Some of the pictures are stunning – with lawmakers walking halls of the Capitol with guardsmen asleep on the floor next to their assault rifles.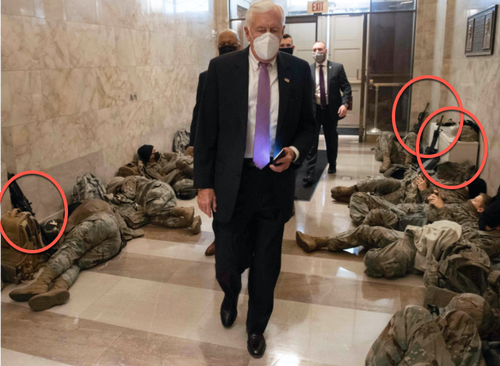 More pictures of armed guardsmen.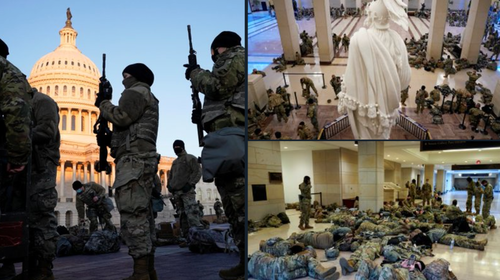 This means that the military has given the orders to arm guardsmen ahead of what could be chaos during President-elect Joe Biden's inauguration on Jan 20.
We noted this morning that the FBI is racing to track down hardcore insurrectionists that could be preparing for a fight next week.